Fast and Directly online Book with the confidence guarantee: We guarantee that you will always get the best price with us!
at the AKZENT Hotel Restaurant Roter Ochse in Rhens.

Our hotel is located in the middle of the picturesque world cultural heritage Upper Middle Rhine Valley, on the Romantic Rhine with its numerous enchanting castles and palaces.
A total of 31 rooms await you in the main house of the Rote Ochsen and in the guest house "Ingrid", the restaurant with winter garden and the rustic beer garden on the historic city wall. Here you will find everything you need for a relaxing stay.
Our warm hospitality and friendly family atmosphere will make you feel right at home. The Kochhäuser family and the entire team look forward to welcoming you as a guest!
Enjoy a relaxing night in your cosy hotel room after an eventful day, whether on a (short) holiday or after a hard day's work. Our lovingly and tastefully furnished rooms are perfect for a break from everyday life!
All rooms are equipped with
comfortable box spring beds
Airfect pillow with pocket spring core
Bedside reading light with integrated USB port
Smart TV with radio and alarm clock
WIFI
Desk with reading light and integrated USB port
Suitcase rack
Wardrobe with mirror
Upholstered chair or armchair
Stärken Sie sich für den Tag bei unserem reichhaltigen Frühstücksbuffet.
Bio-Kaffee und Kaffeespezialitäten (auf Wunsch mit Hafermilch)
verschiedene Bio-Teesorten
Milch, Kakao
Säfte
Cerealien, Müsli, Haferflocken
verschiedene Brötchen, Brot, Croissants
Butter, Margarine
verschiedene Wurstsorten, Schinken
verschiedene Käsesorten
Konfitüren, Nuss-Nougat-Creme, Honig, Ahornsirup
vegetarische und vegane Brotaufstriche
Leberwurst, Teewurst
Frischkäse natur und mit Kräutern
Naturjoghurt, Fruchtjoghurt
Quark
Tomaten, Gurken
gekochte Eier, Rührei
Obst 

 
Experience the Rhine and Moselle
Relax on a boat trip on the Rhine or take a bike tour along the Rhine and forget the stress of everyday life!
Rhens is the ideal starting point for your journey of discovery along the Rhine. From here you can be in Koblenz or Boppard in 10 minutes, whether for a shopping trip or to get to know the city.
The Rhenser Königsstuhl, Marksburg Castle, Stolzenfels Castle, Ehrenbreitstein Fortress and Lahneck Castle are in the immediate vicinity.
It is also not far to the other castles and palaces on the Rhine and Moselle.
In the UNESCO World Heritage Upper Middle Rhine Valley from Koblenz to Bingen, you have a multitude of castles and historic towns within a short distance.
The Loreley Valley - beautiful, steeped in legend and steeped in history.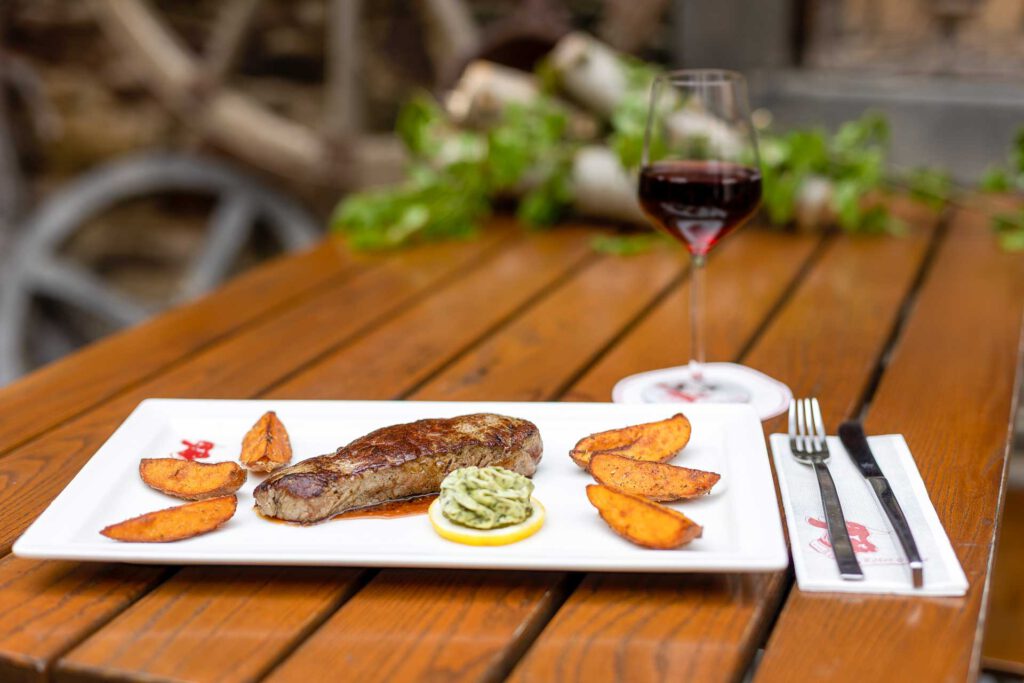 Enjoy delicious regional dishes such as the Rhenish Döbbekoche in our restaurant.
You will find game dishes on our menu all year round. We source our game meat from the surrounding forests of Rhens, which guarantees excellent quality.
For this reason, we are also a member of "Heimat schmeckt!" e.V. This association is made up of food-producing and food-processing companies that market high-quality products from the region.