Fast and Directly online Book with the confidence guarantee: We guarantee that you will always get the best price with us!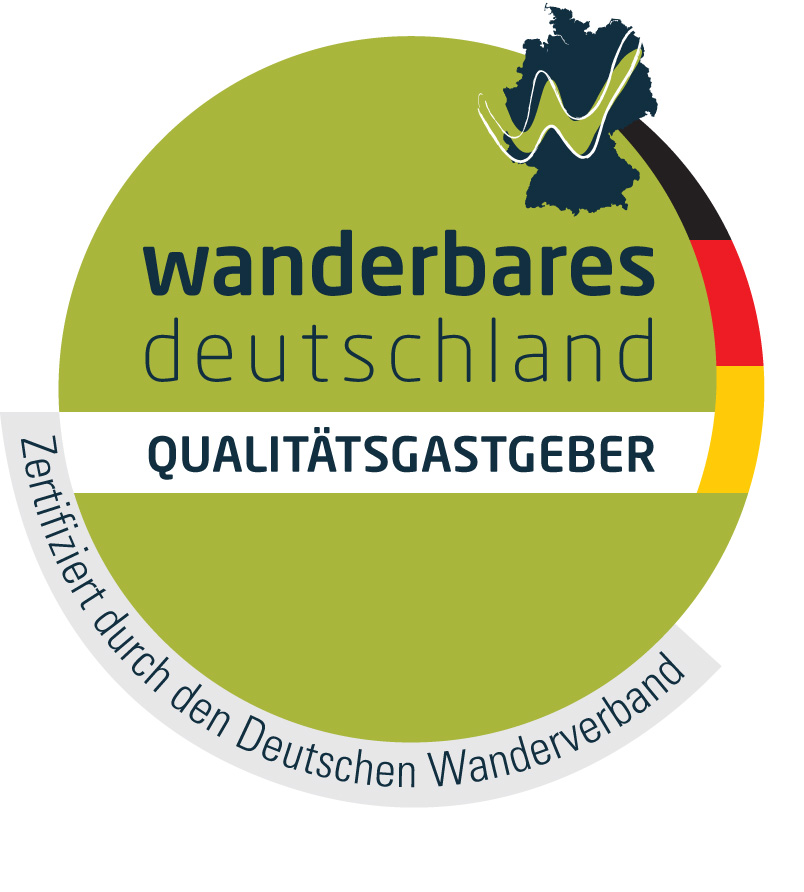 The German Hiking Association has set nationwide quality standards with the "Qualitätsgastgeber Wanderbares Deutschland" (Quality Host Wanderable Germany) and awarded particularly hiking-friendly accommodation and catering establishments in Germany, among which we may count ourselves.
Quality promise for hiking guests
These quality promises are only an excerpt from the 23 core criteria that we fulfil as a Quality Host Wanderbares Deutschland. In addition, we provide at least 9 optional criteria. Talk to us about our other services:
We offer a drying room for equipment and clothing and lend out shoe cleaning equipment.
We keep you informed about the weather.
We have storage trays for your hiking boots.
We are also happy to accommodate hikers at short notice and for just one night.
We are knowledgeable about hiking and have staff who are informed about hiking offers and can provide individual information.
We offer route suggestions for local hikes and tour advice with additional information material.
We have information for you on local and regional attractions.
We offer a reservation service for the next accommodation and night.
We organise a pick-up and drop-off service to hiking trails for you.
We offer luggage transport to the next accommodation.
"Qualitätsgastgeber Wanderbares Deutschland" is an initiative of the German Hiking Association in cooperation with regional partners. The complete catalogue of criteria, further information and all awarded hosts can be found at:
www.wanderbares-deutschland.de
Deutscher Wanderverband Wilhelmshöher Allee 157-159 34121 Kassel
Hikes directly from the house:
Traumpfad Wolfsdelle
Traumpfad Rheingoldbogen
Rhein Burgenweg Koblenz – Rhens
Rhein Burgen Weg von Rhens –  Bad Salzig